Assalomu alaykum!
Happy Saturday!
Had a much needed sleep and relaxed in the morning, working on some articles for other sites, catching up on my YouTube subscriptions, and chatting with friends. Then got some laundry and cleaning done for the week and by that point was already ready for my 4pm yoga class at Yoga Nirvana which I've really been enjoying. So sad to leave, will miss it! Afterwards stopped at Safeway for a snack and some food for tomorrow (gonna do a Sunflower run hopefully) and went back to the dorm and to the pool at the SRC with friends. Great day!
Didn't do much as far as Uzbek project work today
(will include in tomorrow's posts) but I wanted to toss in a fun list to get myself going for my weekend homework, which is a menu in Uzbek. Though I think learning about cuisine is interesting,
as a fruitarian
I don't actually eat any of the food we learn about, except for the fruit obviously, so my menu will have a little bit of a twist. Check it out tomorrow. :)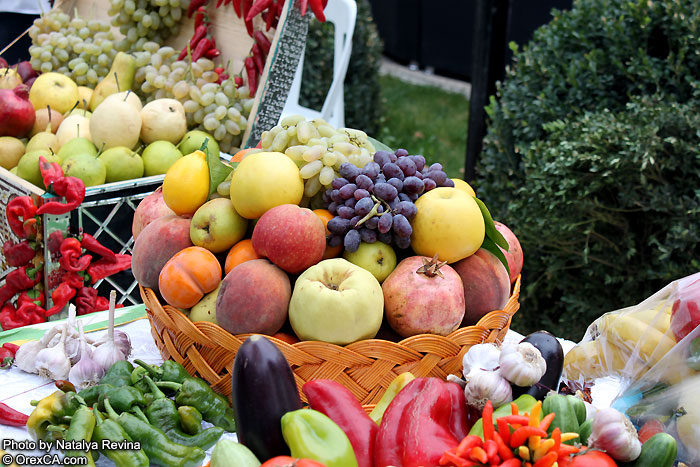 Here are some common fruits in Uzbekistan and their names in Uzbek:
apricot =

o'rik

peach =

shaftoli

plum =

olxo'ri

grape =

uzum

watermelon =

tarvuz

strawberry =

qulupnay

pear =

nashvati

apple =

olma

fig =

anjir

persimmon =

xurmo

*

orange =

apelisin

quince =

behi

pomegranate =

anor

cherry =

gilos
*Also apparently the word for date (the fruit). Cool!
Sadly there's not much in the way of tropicals
like mangos or durian which would be grown in Central Asia, but there's a lot of Turkic/Mediterranean fruits, my favorites probably being peaches, nectarines, figs, and really really good sweet grapes. Oh and apricots too. And cherries... And... You can check out mouthwatering pictures of Uzbek fruit at my post here:
Fruit in Uzbekistan: Photo Collection from A Fruitarian's Perspective
Also found this cool resource about cuisine, including fruit, from Indiana University:
Uzbek Cuisine
.
One more thing for today:
Shout out to Amy for the lovely email she sent me today as a new reader of UzbekBrian. It means a lot to me to hear positive feedback from anyone enjoying the site, so feel free to shoot me a hello at
UzbekBrian at Gmail dot Com
. I'd love to know what brings you, if you're studying Uzbek or another language, or anything really. Talk soon!
Xayr,
Brian